Westerwald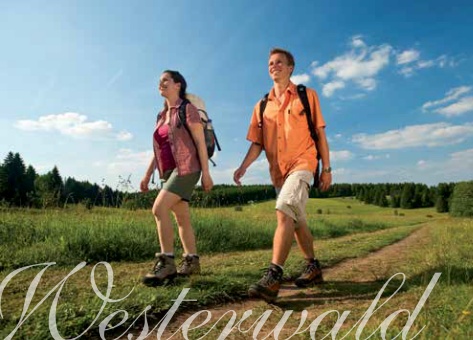 Nature – as you like it
If you're a nature-lover, what more could you want? In the Westerwald, freshness, freedom and the promise of boundless outdoor enjoyment go hand in hand. The beautiful Mittelgebirge landscape between the Rhine, Lahn, Dill and Sieg lies far from the hectic rush of one's everyday routine, and yet it's easily reachable. From the built-up areas of the Rhine-Main and Rhine-Ruhr, many one- to two-hour routes will take you to a region where you can experience authentic holiday relaxation.
The landscape is like a gaily coloured carpet featuring a thousand shades of green: fragrant woods alternate with verdant meadows, while historical towns and attractive villages convey a down-to-earth feeling of being truly at home. Here, camping fans can find the freedom they're looking for. Simply relax on a pitch in the sun and by the lake, or use the region's many cycling and hiking trails to get to know the area. The Westerwald is an unbroken rambler's dream, and for bikers too the varied landscape with its theme trails, mountainbike network and e-bike hire stations offers the possibility of high-quality discovery tours. The region is renowned for keeping up its traditions, and the many annual festivals and markets show the extent to which people here know how to celebrate and what friendliness and hospitality mean to them.
Become a local inhabitant for the duration of your stay and enjoy the refreshing views which this unspoiled region in the west of Germany has to offer. Far, far away in a short space of time and yet so close to nature – camping-fans, what more could you want?

Further tourist information is available on www.westerwald.info