Hunsrück
Home-country feelings, high up in the hills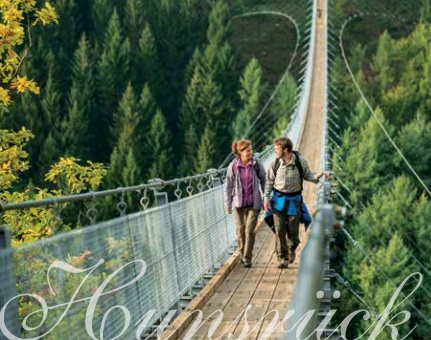 The Hunsrück offers exciting opportunities for active holidaymakers and is a natural paradise for those seeking inner peace and quiet.
The Mittelgebirge (central hills) stretch from the Moselle in the north, the Rhine to the east, the Nahe in the south and the Saar to the west. The special charm of the region's landscape has been an inspiration for many, including the film director Edgar Reitz, who chose the Hunsrück as the backdrop to his famous trilogy "Heimat" (Home Country). Simply arrive and let the home-country feelings germinate – thousands of campers and motorhome guests do this every year. A holiday here, so close to nature, lets you experience at first hand the Hunsrück's verdant meadows and dense shadowy woods.
Two nature parks and even a national park await you: the Saar-Hunsrück and Soonwald-Nahe nature parks and the Hunsrück-Hochwald national park. A new attraction for Hunsrück adventurers is the Geierlay rope suspension bridge between Mörsdorf and Sosberg. At 360 meters, it is the longest such bridge in Germany.
Hiking expeditions through striking ravines and deep valleys, along the Roman Ausonius road, the Saar-Hunsrück Steig, or the Saar-Hunsrück "Traumschleifen", to medieval castle ruins or on the trail of the notorious "Schinderhannes" Johannes Bückler, whose evil exploits took place here 200 years ago: all this means that a holiday in the Hunsrück will always be an experience.
* * * * * * * * * *
Further tourist information is available on www.hunsruecktouristik.de